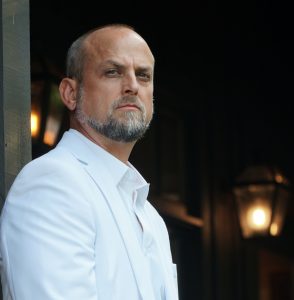 Originally from Buchanan, a small town in West Georgia, Chris Garner began singing at the age of three. His inherent ability to entertain quickly became known to family and friends due to his holiday renditions of Rudolph the Red-Nosed Reindeer and Here Comes Santa Claus.
Although he continued to sing and play guitar through his early years, it wasn't until his time at the University of Georgia that he began to get serious about his music and performing. Fronting his first band, Street Level, Chris played mainly cover music by such classic artists as the Doobie Brothers, Lynyrd Skynyrd, the Allman Brothers, and many other well-known Southern rock, country, and soul groups.
Since college, Chris has continued to sing in a variety of bands. In addition to fronting his own band, he also played with Sweetwater Junction, keeping up his performance skills and enjoying the comraderie of working with other musicians.
In 2009 he starred in (as character Bobby Spencer) and wrote several songs for the independent film "Special Needs", a story about all the difficulties, hardships and love that are a part of caring for a child with disabilities.
Increasingly wanting to focus on and ultimately record many of his own songs, Chris began to work with Grammy-winning producer Don McCallister, whose credits include Third Day and Indigo Girls. In 2013, his debut EP, Lost in The Moss, was released. The album features six songs that Chris feels represent him and the music he loves: a mixture of Southern Rock, Blues, and Country, that when combined, make a sound all his own.
In 2015 Chris was a Finalist on the Nashville Rising Star Songwriting Competition and was also a Finalist in the Georgia Country Awards for Male Artist of the Year the same year. In the Nashville Rising Star Competition, Chris competed along with over 200 Nashville (and beyond) songwriters in a 7 week competition where audience members and music industry professionals selected their favorite songs. Chris has been interviewed and performed live on 107.5 FM in Tifton, Georgia. His original songs were featured on 94.9 The Bull's Back Yard Country Show in Atlanta.
Chris moved to Nashville in 2018 to further pursue his dream. Since relocating to the Music City, he has been writing new songs, performing live, recording and singing demos. His song "Between the Bible and the Bottle", written about his father, was selected to be included in the Nashville Dreamin' Country Compilation Album, Vol 1. In 2019, Chris participated in the Nashville Rising Star Open-Mic Contest and was the industry judges' pick to move on to the semi-final round.
Besides his music, Chris is an avid outdoorsman, and loves to fish, hunt, and camp. He is currently working on his sophomore EP.
Check out @chrisgarnermusic on Instagram!